'tis the season
December 01, 2017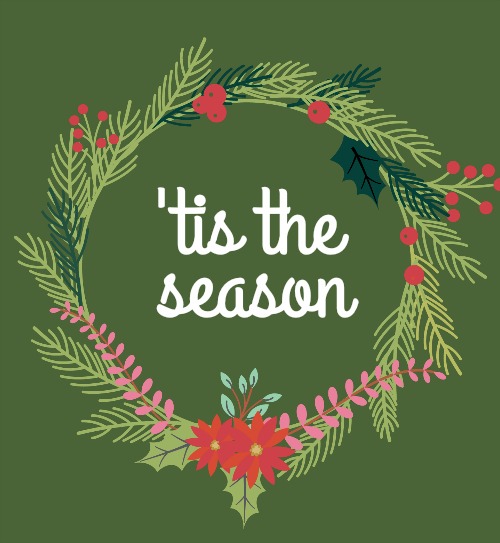 It IS the season. For sharing. For caring. For giving — of your time, your resources, your abilities. For sharing your table with family, friends, neighbors. This holiday season, as we reflect on the gifts we've been given, may we be eager to give, and eager to bestow acts of kindness on our loved ones, or even on strangers in need.

Ruth Ebenstein, an American-Israeli writer, relates a story of a Christmas Eve in 1944, a Christmas Eve that her grandmother, uncle, and mother spent in a concentration camp in Austria, on the verge of starvation. Ruth's mother, who was only three years old, could not even leave the bed because she had no shoes to wear. Late that Christmas Eve night, Ruth's uncle Gyuri, a young boy of 12 at the time, snuck out of the concentration camp and walked four miles to the nearest town. When he arrived in Deutsch-Wagram, he came upon a house and, knocking at the door, he begged the sleepy woman who answered for some food for his family. She whispered, "Come back tomorrow." When Gyuri returned on Christmas day, the smiling Austrian lady gave him food, clothing, shoes, and warm woolen socks that she had knitted for his young sister.
When Gyuri returned to the camp, the entire barracks enjoyed the feast provided by the kind woman from Deutsch-Wagram. And when the camp was liberated by the Russians in 1945, Ruth's mother wore those same shoes and socks to make the 28-mile trek to Bratislava, to freedom.
After relating this story, Ruth adds a thank you to the woman whose unexpected kindness shone a bright light in a dark place:
"Thank you for knitting with your hands the pair of socks that warmed my mom's little feet and skinny legs. Thank you for finding those shoes and clothing and giving them to a stranger. Thank you for sharing your bread during wartime. In the despair of a battered land, cold and snowy, when many hearts were closed and evil reigned and death was more likely than life, especially for Jews, you gave them light. You gave them kindheartedness. You gave them a measure of sustenance that I can only imagine." USA Today
---
Martin Klapper, from Longmont, Colorado, relates a story about one holiday season during the Great Depression, when Martin was 10 years old. A few days before Christmas 1935, Martin looked out the window to see his father sitting on the stoop outside with tears in his eyes. When the mailman came up the steps to ask his father what was wrong, his father answered that he had used up his food vouchers and that the rent was past due. "Ike, how much do you need?" the mailman asked. When Martin's father answered that he needed $33 for rent, the mailman took $50 from his wallet and gave it to Ike. When Ike told him that he wasn't sure when he'd be able to pay him back, the mailman said it was fine if he wasn't able to pay him back. Noticing Martin at the window, the mailman said to Ike, "Isaac, things will not be this way forever. If you or your son will remember this day, there will be times in the future when someone needs your help. Help them within your means and tell them what happened this day. This will be my payback. Merry Christmas and Happy Chanukah."
Martin ends his story with this: "As long as he lived, my father helped others when he could, and I've done my best to do my part in paying his generosity back." Reader's Digest
---
Glen Gillette, from Las Vegas, Nevada, relates a story about Christmas 1958, his first Christmas as a high-school teacher in Nevada. On December 22, he was headed home to Idaho to spend Christmas with his parents when his radiator hose broke outside Fillmore, Utah. When the car was towed to the Fillmore Chevron station, the owner, Dan Brinkerhoff, discovered that "the engine had become so hot that it had warped the head." Dan made some calls and found a replacement part in a nearby wrecking yard. After Glen took a bus to the wrecking yard, bought the part, and returned to Fillmore, it was nighttime and the station was closed. However, Dan went right to work, laboring over the car for hours while Glen slept in the backseat. As Glen concludes his story, "Finally, he woke me and announced I was ready to go. When I went to settle up, he would not take a dime for anything he had done. I got to spend the holidays with my parents, and I shall forever remember Dan for the wonderful thing he did for me." Reader's Digest
This holiday season, remember this: whether you are a mailman or a mother or a mechanic, your small act of kindness can make a world of difference.
Sources:
USA Today, https://www.usatoday.com/story/opinion/voices/2015/12/23/voices-unforgettable-christmas-act-kindness/77771262/
Reader's Digest, https://www.rd.com/true-stories/inspiring/christmas-kindness-stories/